R & C APPLIANCE SERVICE
– BOONE NC
| | |
| --- | --- |
| | |
| | |
| | |
| | Boone NC Appliance Service and Repair |
| | |
We have experienced Intermittent issues with our phone and voice response system in both receiving and leaving voice mail messages. If you have been affected by the communication issues, we are sincerely sorry for the frustration and inconvenience you have experienced and want you to know that we have taken actions to correct the problem.
We have added additional phone, text and email contact methods. You may now call or text us at 828-773-3011 and may email us at rcappliance@icloud.com in addition to our standard email address of rcapp@skybest.com and phone 828-297-4579. Customer service representative are available from 8:00 AM to 4:30 PM, M-Thurs and 8:00am - 3:30 PM on Friday.

Repair Parts Status and Updates – Coming soon! In addition to being contacted by a customer service representative, you will be able to check the status of your order online.

We sincerely appreciate your patience with us as we have worked to resolve the communication issues. We are confident your next experience with us will be up to the high standard that you've come to expect.


---
About Us


R & C Appliance Service Inc. began as a family owned appliance repair service established by father and son, Clay Verne Greene and Rick Greene in 1975 and has been serving residents in the North Carolina High Country for over 40 years.

While R & C Appliance has grown, evolved and adapted to changes in the service and repair industry, one thing has not changed. That is our continued commitment to the values on which the company was founded – dedication to providing our customers with honest, affordable and high quality appliance repair service, excellent customer service and an overall positive customer experience.

Providing in-home and shop repair service by factory trained and certified Technicians we offer Appliance Service and Repair for the North Carolina High Country areas including Vilas, Sugar Grove, Blowing Rock, Banner Elk and Boone NC.


Major Appliances We Service

R & C Appliance Service provides repair services on the following major appliances:


Washers
Dryers
Ovens
Dishwashers
Microwave Ovens

Trash Compactors
Cooktops
Ranges
Range Hoods
Refrigerators

Ice Makers
Garbage Disposals
Window Air Conditioners
Dehumidifiers
Freezers


Schedule Appliance Service

To schedule service on your appliance, call R & C Appliance Service at 828.773.3011 or 828.297.4579. You may also request service through our E-Mail. We will gather information about the problem, the type and make of the appliance and we will schedule an appointment on a date convenient to you. The day prior to service, a customer service representative will contact you via text or phone with an estimated arrival time.


Purchase Appliance Parts

For our "do it yourself" customers, R & C Appliance Service stocks many frequently used appliance parts and can order non-stock appliance parts with typically next day delivery for all of the major appliance brands listed below.

See our Appliance Parts page for more information.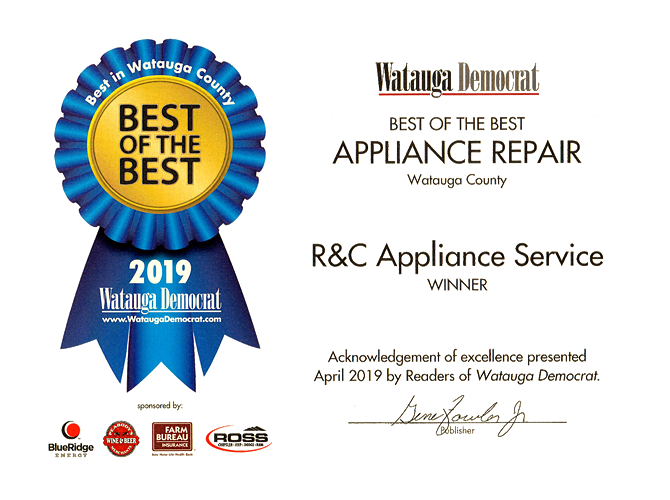 Memberships and Area Links


Major Appliance Brands We Service

R & C Appliance Service, INC is a factory authorized warranty servicer for:

R & C Appliance Service, INC also services Sears and Kenmore appliances that are out of warranty only.


Contact Information

R & C Appliance Service, Inc.
5015 US HWY 421 N, Suite #10
Vilas, NC 28692
828-773-3011
828-297-4579
rcappliance@icloud.com
rcapp@skybest.com

Office Hours
Monday – Thursday: 8:00 AM – 4:30 PM. Friday ; 8:00 AM – 3:30 PM.
Calls received after hours will be returned the same afternoon or the following morning.

Map and Directions to Our Office
Map and Directions














| Home | About Us | Appliance Parts | Appliance Tech Tips | Order Status | E-Mail |

©2022 R & C Appliance Service, Inc. - Boone NC Appliance Service and Appliance Repair
Factory Authorized Appliance Service and Appliance Parts for Most Major Appliances
Serving the North Carolina High Country for Appliance Service and Appliance Repair
North Carolina High Country – Boone NC – Blowing Rock NC – Banner Elk NC